at the northcoast of Dominican Republic.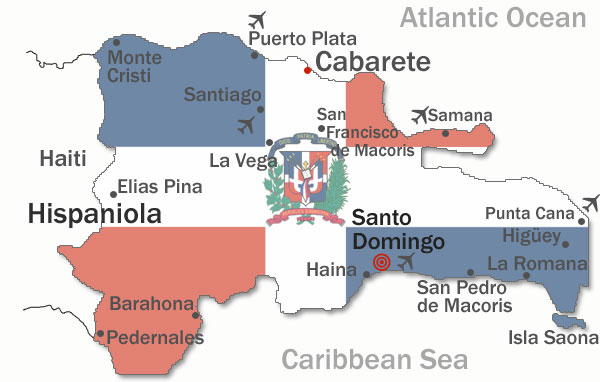 The Dominican Republic (spanish. República Dominicana) is an island and lies on the island Hispaniola east of Haiti, between the Atlantic Ocean and the Caribbean Sea. The nationals are Dominican.

Cabarete ( Wiki )
Cabarete is a small town at thenorthcoast of Dominican Republic. Belongs to the province Puerto Plata and lies about 40 km from the town Puerto Plata.

Till the eighties of the 20th century there was no Cabarete.
Then it was founded and more interesting for watersports like kite and windsurfing.






Cabarete ranks as one of the best spots in the world for Windsurfers, Kitesurfers and Wakeboarders.
Every year takes Worlcup races place in Cabarete. e.g. Kitesrfing World Cup.


Many Canadian and US-American Tourists as well as European come to Cabarate because of its young and "hipp" image of Surftown.
This hipp image proceeds to the infrastructure of this small town ( approx. 10,000 inhabitants) which is really well, there are many restaurants, bars and discotheques direct at the beach and many internetcafes and well assorted surfshops.



Through Cabarate parallel the coast runs the mainstreet from Puerto Plata to Rio San Juan.

East of the centre of Cabarete are the districts Camino del Sol, La Rinconada and El Play.


The international Airport of Puerto Plata is only 25 km away from Cabarete the next town is Sosua which is famous for its Bay for snorkeling and relaxing.
You can reach the international school of Sosua in ca. 15 minutes by car (www.issosua.com) this school has an american syllabus with english speaking teachers and teaches from pre school to the 12 class.


source: http://de.wikipedia.org/wiki/Cabarete